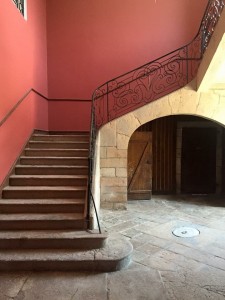 Living at « Chez Gervais ».
The building renovation brought out the memory of the place.
Ancient paintings concealed under the ravages of time, fragments of antique tapestries superimposed like geological layers.
70 years of History are not easy to erase.
Our plasterers, paintors and tapestries makers mutated for that special occasion into real archaeologists.
This past has been our common thread during construction work.
Ten big rooms were brought to light.
Renovated in their original outfit.
Tapestries, fabrics, chandeliers, antique furniture.
Ten luxurious bathrooms.
The rooms inhabited by Charles Ritz, all on the river's side, do honor to this era.
A four star hotel from 1935 !
Concerning Charles Ritz, without doubt one of the most famous hosts in La maison Gervais, he was more than an ace or a pioneer fly fishing. He was a fan, a great fan and an authority.
The most beautiful rivers of the world run through his veins.
He used to come on the course of the Hotel Gervais, to try his famous parabolic fishing rod, that he drew and made of Bamboo split again at Pezon and Michel, in Amboise.
The access to the rooms, all on the first floor, is a magestic straircase from the 18th century, extended by a hudge and large hallway with hardwood floor.
The rooms are spacious, between 22m2 and 33 m2, with a ceiling height of more than 4 meters.
Rooms with king-sized beds (180×200) or simple beds (90×200) according to layout, 5 stars quality bases and mattresses.Marble bathroom, big showers and 3 of them have large bathtub.
Free WIFI. Large desks in some rooms. Free baby beds.
Please note that there is no room service and no mini bar. TV on request.


Access by stairs only